Pasticcini con la sparabiscotti
Almond cookies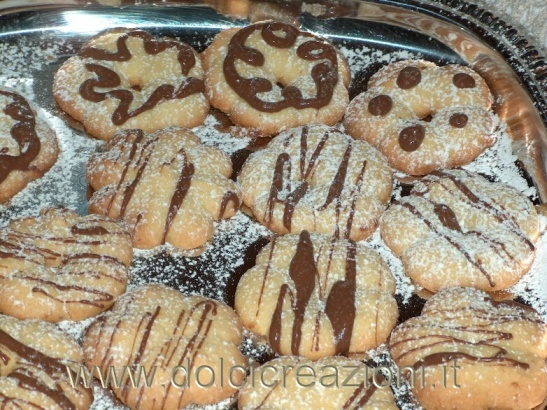 250 gr farina 00 - flour

200 gr mandorle macinate - shredded almonds

150 gr zucchero a velo - icing sugar

150 gr burro - butter

2 tuorli + 1 uovo - 2 egg yolks + 1 whole egg

cioccolato fondente e al latte per decorare

dark chocolate - milk chocolate to decorate

Tagliare il burro freddo a pezzetti e metterlo nella ciotola dell'impastatore

Put cold butter, cut into pieces, in the mixer bowl, using paddle attachment

2) far sabbiare il burro con la farina usando la frusta a K e aggiungere le mandorle e lo zucchero a velo

add flour and work until grainy

add schredded almond and icing sugar

Aggiungere i tuorli uno alla volta e l'uovo intero e lavorare a velocità 1 fino a che il tutto non si è amalgamato

Add egg yolks, one at a time and the whole egg.

Work slowly.

4) Avvolgere la frolla ottenuta nella pellicola trasparente e riporla in frigo per almeno 30 minuti

4) Cover dough with plastic wrap and let set in the refrigerator for about 30 minutes

Mettere l'impasto nella famigerata sparabiscotti, con il dischetto a piacere...

ovviamente il primo dischetto che sceglierete non sarà quello giusto... non so perchè ma alcuni dischetti funzionano alla grande altri no.... evvabbè.... non si puo' avere tutto no?

put the dough in the cookie gun and... enjoy

i biscotti vanno "sparati" direttamente sulla placca NON imburrata

cookies need to be placed directly on an ungreased pan

Cuocere in forno preriscaldato per circa 12-15 minuti a circa 170°C

Rimuovere immediatamente dalla placca e lasciare raffreddare su una griglia

Cook in a preheated oven for about 12-15 minutes at 170° C

Remove immediately from the pan and place carefully on a cooling grid

Sciogliere il cioccolato e decorare a piacere

Cookies can be decorated with dark or milk chocolate (or white chocolate as well...)

BUON APPETITO!!!!!

I testi, le immagini e i filmati sono di proprietà del sito www.dolcicreazioni.it pertanto sono vietate la copia e la riproduzione su altri siti web senza esplicito permesso dell'autore.